Golf Getaway
Swing by First Hotel Grand, for at weekend of golfing joy. Your large room have ample space for at set of winning cubs and the chefs at Grand's Fiskerestaurant have prepared a 3-course feast for the champions of the green.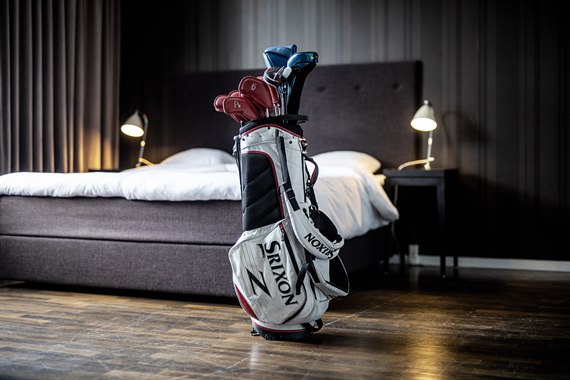 1 x Accommodation in standard double room
1 x Breakfast buffet
1 x Green fee granting access to 4 different golf courses
1 x 3-course menu in Grand's Fiskerestaurant
Amenities
During your stay, you will, naturally, have access to the hotel's amenities including the rooftop terrace and 24h fitness facility.
Grand's Fiskerestaurant
At First Hotel Grand, you will find plenty of opportunities to enjoy your vacation, whether you are looking to experience an exquisite meal in Grand's Fiskerestaurant, relax in the lounge, or simply just have a good time in Grand Bar.
Ordering and stay period
Arrival Friday or Saturday
Other booking conditions
This offer must be booked 2 days in advance
Cancellation no later than 48 hours before arrival.
Extend your stay with an extra night DKK 895, -
Green fees apply to the following golf courses.

Odense Eventyr Golf, Langesø Golf, Sct.

Knuds Golf & Svendborg Golf
Please note: First Hotel Grand is not responsible for the reservation of tee times at the individual courses.
Please note: Grand's Fiskerestaurant is closed on Sundays and public holidays.
Please note that this is a set package and the content can not be changed
Add wine parring to the 3 course menu: Only DKK 375,-
Price per person in shared standard double room
DKK 1.225,50